google-site-verification: googled1bccff8c23be19c.html
VFW Junior ROTC Award 21-22 Award Winner
Raul Barragan - 5/19/2022
As a member of the Junior ROTC program, Jessica obtained the highest "Position" a cadet can have in the Viking Battalion program. A truly exceptional performance by an outstanding cadet and student.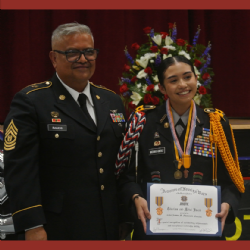 "This is the first time James Monroe High School has had the highest cadet in the District since 2003. Even with Monroe winning the most championships during this period, this is their first Top Cadet.
VFW Post 3834 is proud to provide Jessica with the Junior ROTC Award for 2021 - 2022.
Congratulations!
Commander Raul Barragan
Los Angeles Unified School District – Junior ROTC All-City Colonel Selection
http://www.usarmyjrotc.com/ news/21/10/02_viking_bn.php